"Since its beginnings 20 years ago, the European Social Network (ESN) has grown from an informal network to a well-established player on the European scene, representing 140 member organisations in 36 countries. This remarkable development has taken place during a period when Europe has been facing tremendous challenges, including demographic change and the financial crisis. Throughout the years, ESN has developed a strong role representing public local social services, and is now the obvious meeting place for decision-makers in social services across Europe. The annual European Social Services Conference is a forum of international excellence in the sector."
Alfonso Lara Montero, Chief Executive
Download the history timeline: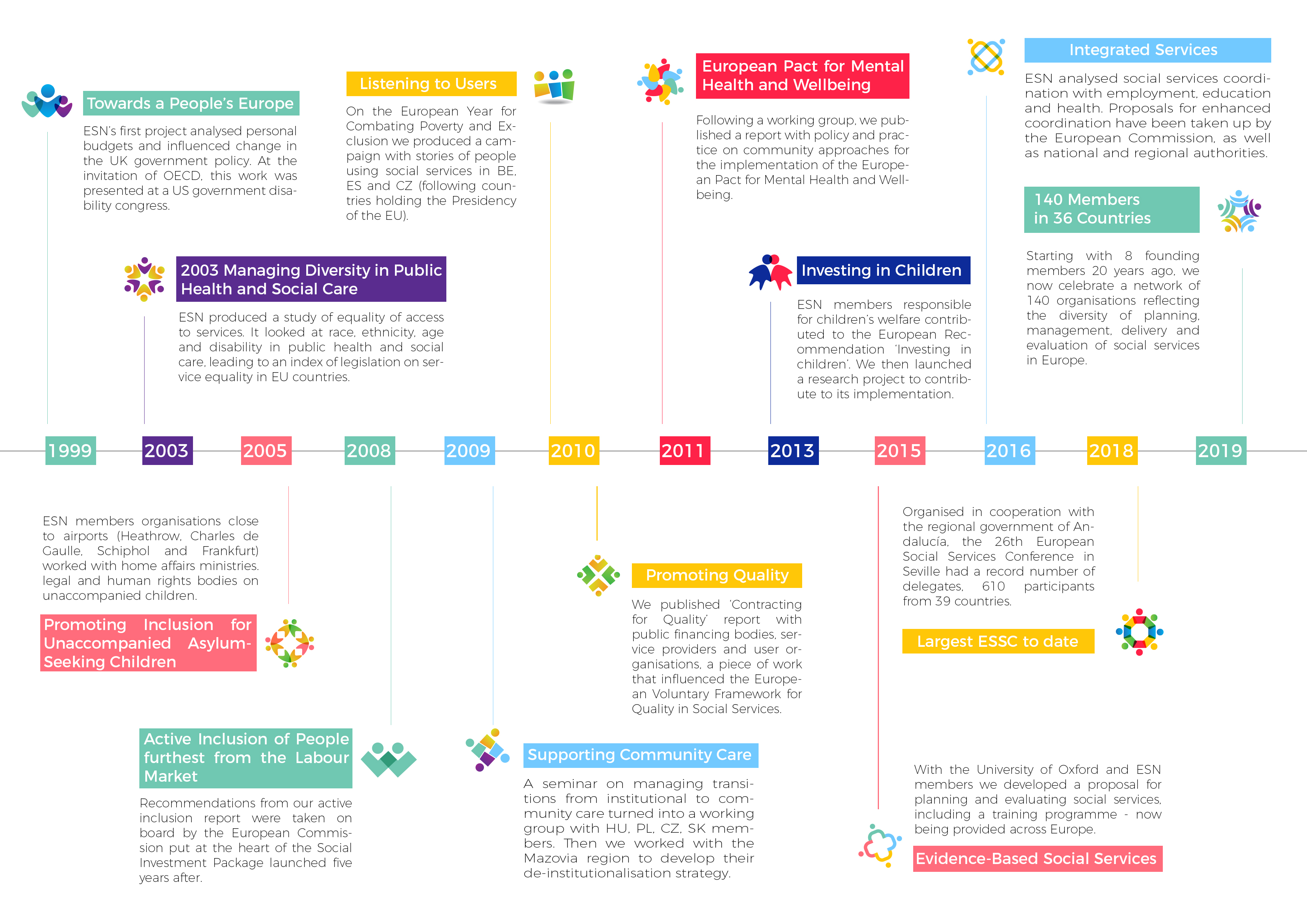 1999 Towards a People's Europe
Person-centred care is at the core of ESN's work and as such ESN's first project analysed personal budgets. This piece of work was the first of its kind. It influenced change in UK government policy, and the OECD invited us to present it at a US government and disability congress.
2003 Managing Diversity in Public Health and Social Care
A unique study on the equality of access to services looking at race, ethnicity, age and disability in public health and social care, which led to an index of legislation on service equality in EU countries.
2005 Promoting Inclusion for Unaccompanied Asylum-Seeking Children
ESN members located at major airports (Heathrow, Charles de Gaulle, Schiphol and Frankfurt) worked with home affairs ministries, human rights and legal bodies to examine the situation of unaccompanied children. The recommendations were developed in our work on migrant children in 2017 and are highly relevant today.
2008 Active Inclusion of People Furthest from the Labour Market
We established a working group and published a report on active inclusion. The principles outlined by us were at the heart of the European Commission's Social Investment Package launched five years after. Our work promoting access to social services was taken up by the European Commission's Recommendation on active inclusion in 2008.
2009 Progressing Community Care
A 2009 seminar that explored the challenges of managing the transition from institutional to community care was the starting point of a key strand of work for ESN. Our work on community care continued with a working group, a report and a training programme for social services representatives from Hungary, Poland, Czech Republic and Slovakia after which the Polish region of Mazovia developed its first de-institutionalisation strategy.
2010 Listening to Users
During the European Year for Combating Poverty and Exclusion we produced a website and a film with stories of people using social services and their carers in Belgium, Spain and the Czech Republic, the three countries subsequently holding the Presidency of the European Union.
We worked with public financing bodies, service providers and user organisations to publish 'Contracting for Quality'. It focused on quality in social services in Europe and influenced the European Voluntary Framework for Quality in Social Services.
2011 European Pact for Mental Health and Wellbeing
We launched a working group at the end of which we published a report with policy and practice on community approaches for the implementation of the European Pact for Mental Health and Wellbeing.
ESN members responsible for protecting and promoting children's welfare played a central role in ensuring that services were included in the European Recommendation 'Investing in children'. The year the Recommendation was published, ESN launched a research project to contribute to its implementation.
2015 Evidence-Based Social Services
In cooperation with academics from the University of Oxford and ESN members we developed a proposal for planning and evaluating social services, including a training programme which is now being provided across Europe.
ESN analysed social services coordination with employment, education and health and proposed principles to enhance coordination which have been taken up by the European Commission, national and regional authorities in their policy papers.
Organised in cooperation with the regional government of Andalucía in Seville, the 26th European Social Services Conference (ESSC) focused on investment in social services and saw the largest participation of delegates to date with more than 600 professionals from 39 countries.
2019 140 Member Organisations in 36 Countries
We started the year with 128 member organisations in the Network, up from 8 founding national members in 1999. ESN has been growing steadily for the past 20 years to reflect the diversity of organisations involved in the planning, management, delivery and evaluation of social services in Europe.